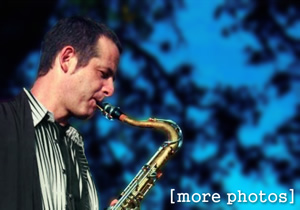 Born in Boston, Paul discovered jazz at an early age, sneaking into smoky clubs by age 13. He studied with jazz legends Archie Shepp, Max Roach and Ray Copeland before moving to Austin in 1982 where he worked with such blues greats as Marcia Ball and members of the Fabulous Thunderbirds. Paul earned his master's degree in Ethnomusicology at the University of Texas in 1991. He teaches private and group classes in clarinet & saxophone, jazz history & theory, and issues in music & culture.
Paul has produced three CD's representing the three groups he leads: PK Sax(original jazz and world music), The Klemperer Group (acid jazz & experimental), and Manteca Beat (classic R&B and international cabaret). He has toured nationally and internationally for over 20 years, and continues to divide his time between Austin and the road, bringing his soulful sax sound across the U.S., Latin America, Europe and Asia.
In addition to his own groups, Paul plays with numerous Texas bands, spanning many genres.  Here's a partial list:
Motown/Soul/Funk:  Memphis Train Revue, Hot Wax, River City Soul.
Jazz/Blues: Marcia Ball, Mr. Fabulous, The James Hinkle Band, The Jitterbug Vipers, Larry Lange and his Lonely Knights, The Copa Kings.
World/International Cabaret: Sangeet Millennium, Ivory Ghost, La Strada. The Classicats.
Experimental/Art Music: The Golden Arm Trio, Saxophonic.
From the blog:
"I have been playing music in Austin for a long time. Lots of bands, styles, venues, you name it. For me music is just music. Like Duke Ellington said (I paraphrase): 'There's two kinds of music: good and bad.' Part of why I stay in Austin is the creative cross-pollination among musicians. After being on the road, it's always good to come home to Austin."